Completed projects for drinking water, toilets and photovoltaic systems
Enclosed we give you an overview of the development aid projects which have been supported by us. For the most part we also planned the concept and organized the realization. Only local companies were commissioned with the construction of the plants. More information on these projects can be found in the respective PDF documentations.
2018/2020
Drinking water supply for the villages Ambohitrandriana and Mahavanona in the north of Madagascar.
The two villages with about 6500 inhabitants are located in northern Madagascar on the Sambirano River. Outside the rainy season, access is possible with allterrain vehicles, during the rainy season only with a motocross motorbike or a motor canoe on the Sambirano River. The inhabitants live in the most basic conditions from the cultivation of cocoa, vanilla and rice. Although the Sambirano River carries a lot of water, the people of both villages had no clean drinking water. With the new drinking water supply, water of impeccable quality is now available.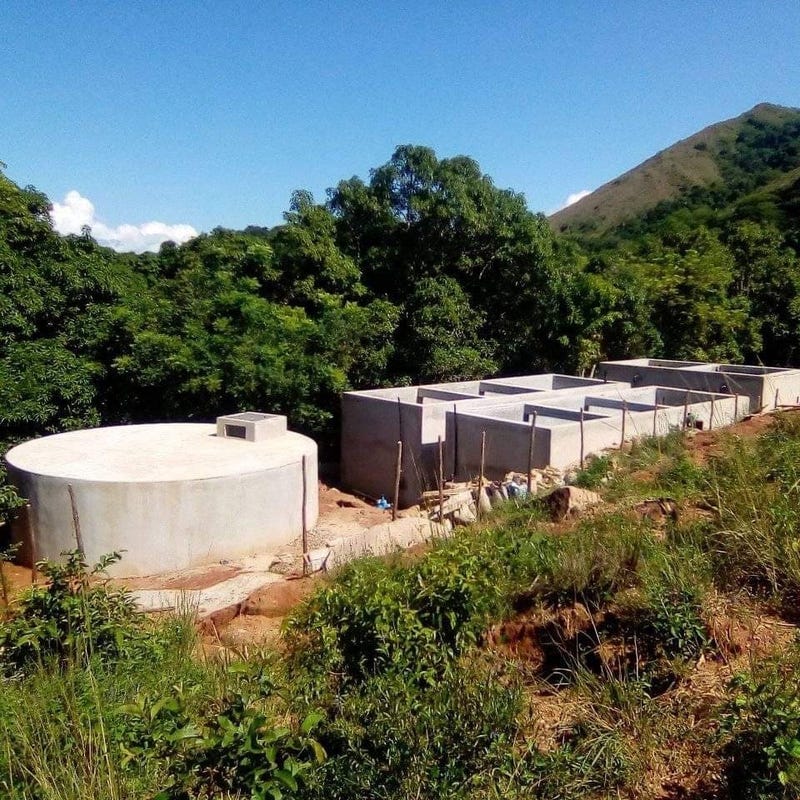 2012/2016
Toilets and drinking water supply for Lovikopé in northern Togo, West Africa
The Swiss association Togo Assist has built up a primary school in the remote village of Lovikopé, which is being run successfully.

Our task was to plan and build a toilet facility for the school and a drinking water supply for the whole village. The material for the water tower, the water pumping system and the water supply network was delivered to Lovikopé from Switzerland. Part of this material has been donated to us by suppliers from our industry. The work on site was carried out by a local contractor.
Main water point in the village





2008
A small waterwork with solar power for Breü, a village in the Amazon region of Peru
Breü is a remote, poorly accessible settlement in the Amazon lowlands. A stream with murky water was the only way for the inhabitants to obtain water for their daily needs. Together with the Swiss Mission Indicamino, we supported the construction of a small solar-powered water supply system.
The water pump and the water tank with 1000 L. The system can be operated with solar power or by hand,
The inhabitants are happy about the water point with clean drinking water in the village.
2008/2013
Drinking water, toilets and photovoltaics for the Gilgal Primary School in Namaliri, Uganda
The small one-man village school has developed over the years into a school with more than 500 pupils and teachers through the activities of the Swiss Seroma Association.
Due to the growth of the school, the basic sanitary facilities had to be urgently expanded.

Our project included the construction of a drinking water supply and toilets in two stages.

In a third stage, a solar power system was planned and installed according to our specifications. This will enable at least the operation of the groundwater pump and emergency lighting to be maintained in the event of frequent power failures.